Products tagged with 'scrub'
Cashmere glow is one of our top sellers. Envelop yourself in the warmth of Vanilla, French Pear and Cashmere Musk with this sugar miracle by Beauty Kitchen. Not only will this rid your body of dry, dead layers of skin, it will also work to rejuvenate your cells and increase hydration, with anti-aging properties.
Soothing and replenishing, rose geranium is known as a natural cleanser that treats various skin disorders. Featuring real rose petals, this sugar scrub will exfoliate and re-balance your skin, leaving it with a fresh floral scent. Each scent of our sugar scrubs are available in either a 2oz or 12oz size.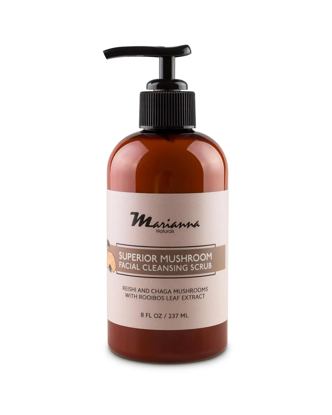 Great for all skin types, Marianna Naturals' Superior Mushroom Facial Cleansing Scrub is formulated with Reishi and Chaga Mushrooms as well as Rooibos Leaf Extract. Filled with micro-exfoliating beads, this cleanser is gentle, yet powerful. The ingredients are also known to restore youthfulness, smooth and brighten skin, fight acne and redness, and even protect your skin against environmental damage. Vegan & Paraben Free. Eight ounce bottle with pump.